Clients often come into the salon asking if they should protect their hair from heat.
I had client recently, who inspired this blog. During her consultation she told me a stylist had told her not to bother with thermal protection. As a result of this poor advice and few other hair misdemeanors, that day, I saw the worst case of damage in my chair this year. Thankfully after a full consultation, restyle, treatment and a plan of action including home care and in salon services, we are now on our way to having amazing hair. It won't happen immediately but the difference after one visit was unbelievable, she said it felt like totally different hair. This is the reason a stylist's job is so worthwhile. We get to save people from themselves daily! not only that we can increase someones confidence, self-worth and mood in just an hour!
Getting back to the subject of heat.... Would you take a pizza from the oven without protecting your hands? If the answers no then I think thermal protection aka heat defense is a total must for anyone who straightens or curls their hair. The problem with heat protection sprays is that so many of them are sticky, yuk... who wants sticky hair? So of course, no-one wants to use that. We've tried and tested hundreds of products over the years and because we are an independent salon, we get to use and recommend whatever we think works best rather than what our brand dictates.
How to choose the right spray?
When choosing a heat protect spray, spray it on your hand and rub into your skin, does it disappear leaving the skin soft or is it sticky and greasy? Whatever it does to your hand it will probably do to your hair. We always look for one that goes sticky for a few seconds then you can't feel it on the skin, that way you're not going to notice the product in your hair.
Every time?
Use your spray every time you apply heat to your hair, even if your just re-straightening the ends quickly, this will protect your hair and make the style last longer. Never underestimate the damage caused by heat, not only will it make your hair look dry, it weakens the cuticle meaning your colour will fade faster and be less vibrant, your hair wont blowdry and style as easily as it should and if yur looking to grow your hair, think again, as fast as it grows the ends will be snapping off creating a never ending bob!
We are a results based, prescriptive salon, we do not sell, we advise. If your hair needs it we will tell you, the rest as they say is up to you!
Our Top 3
Paul Mitchell
Lightweight spray to be used on dry hair, spritz all over for none stop protection and a fruity smell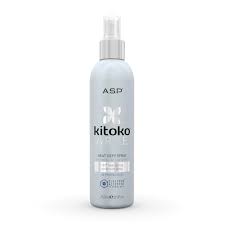 Kitoko
For use on wet or dry hair, this will protect your locks from both the dryer and heated tools. Lightweight & none sticky, if you like a more natural product free from silicone's and parabens, this is the one for you.
Moroccanoil
Wet and dry use for all hair types, none greasy and with the signature moroccanoil scent.